FemmeProjects begins a new cycle of information! 

Why do we still shy away from talking about menstruating? Are we ashamed? Are we shy? Can you believe that in 2018, many of us are still embarrassed about our monthly cycle? Well, FemmeProjects is breaking the silence. It's time to debunk the myths, to speak clearly and proudly about our cycles. With its new campaign, FemmeProjects aims to open a space for free discussion and the sharing of experiences. The organisation wants to create an opportunity to share their wisdom with, and to learn from, young people who are coming of age.
Cycles, in a nutshell, is a campaign to tell menstruating people that it is okay to talk about it; that it is okay to ask questions and seek answers and that is okay to own body, your reproductive 
system, your sexuality and your life.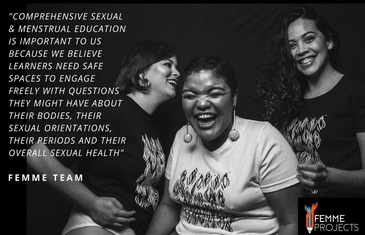 FemmeProjects has worked with more than 4000 learners from under-resourced schools in the Western Cape, and has provided mentorship to high schools located in urban and rural areas. The NGO continues to provide comprehensive sexual education.
Co-founder of FemmeProjects Kim Windvogel says, "We have learnt that parents and adults often refuse to talk about sexuality with children because they fear that they will encourage 'sinful' behavior. In fact we should be encouraging engagement on this subject so that our children are informed and with this information they have agency over their sexual and reproductive health"

In addition to inviting people to share their personal stories about menstruating, FemmeProjects has invited artist, Lady Skollie to create art for the campaign that can be seen in these images. These will be on sale and proceeds will go towards FemmeProjects' Cycles fund to educate learners about sex and menstruation; and to provide young learners with hygienic bodily care.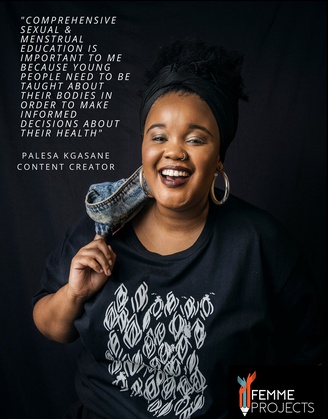 The campaign photographs and features South African celebrities and connectors including KFM breakfast presenters Sherlin Barends, ELLE digital content manager Palesa Kgasane, South African actress Denise Newman and visual artist Lady Skollie, who designed an exclusive T-shirt celebrating the vulva for this campaign. FemmeProjects aims to grow awareness around the importance of Comprehensive Sexual & Menstrual Education in South Africa and the world..
Proceeds of each sale will assist young learners to be well-informed about their bodies and their Sexual & Reproductive Health & Rights.Watch our first episode of Cycles: My First Period Story here: