Queer Writers Incubator
A training program for queer writers of colour geared at television & film writing 

Free Film School & Femmeprojects, supported by the National Film and Video Foundation present "Queer Writers Incubator", a training and mentorship programme for young queer writers of colour.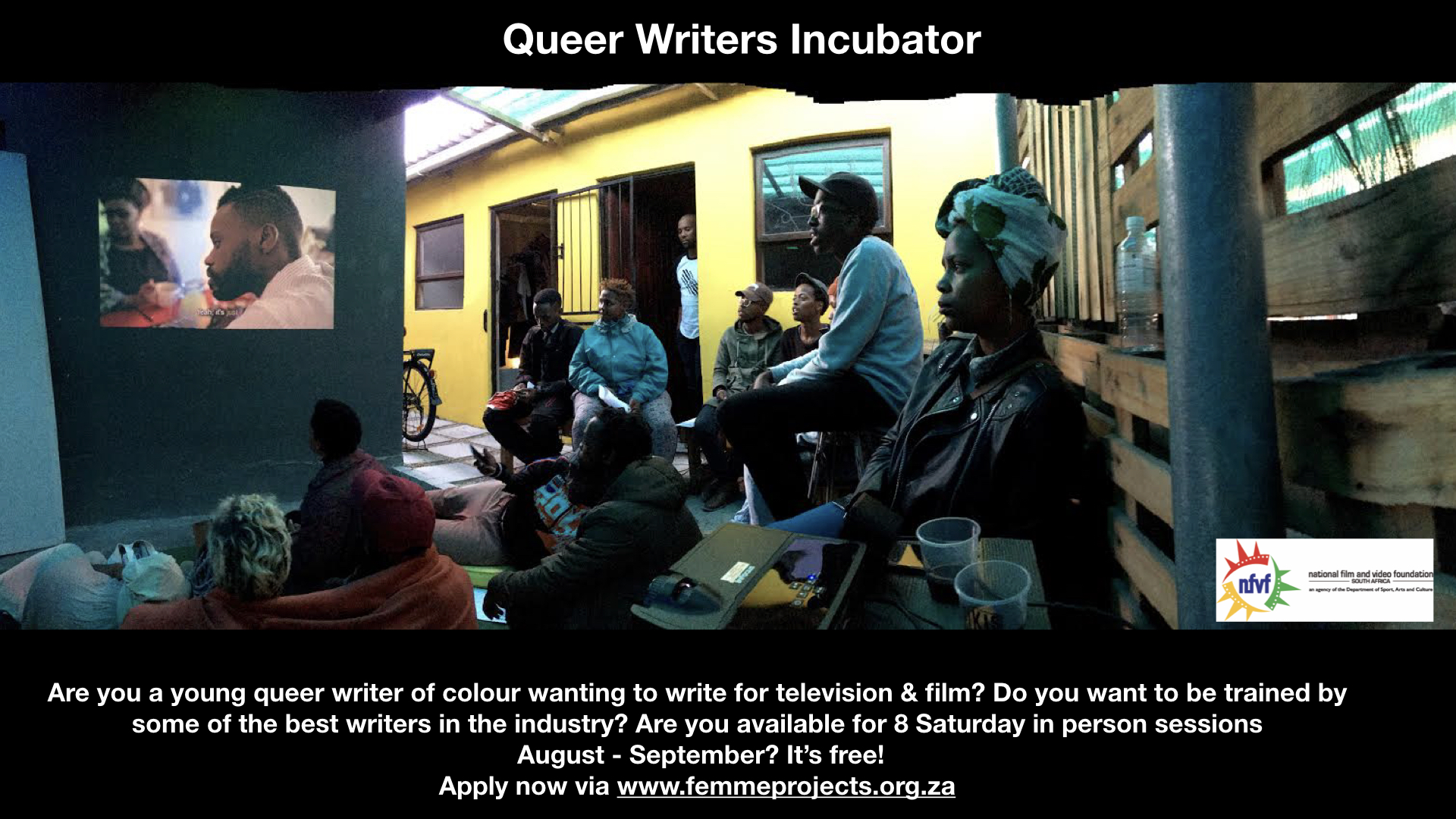 The programme pairs participants with Teachers/Mentors who are both experienced and accessible while providing crucial training to young emergent writers.
This project seeks to make writing a viable career, create space for and empower emerging and marginalised voices and grow the film and television industry with an expanded base of writers to draw from.
The Programme will run over 3 months and consist of 8 in-person Saturday workshops aimed at advancing and developing skills in writing for television and film specifically focused on writers of colour who identify as queer. Each workshop will be taught by a leading industry professional and each participant will be paired with a mentor and have access to one on one sessions to develop their work over the course of the workshop series.
Queer Writers Incubator invites applications from participants who fulfil the following criteria:
    -be a person of colour

    -submit a piece of written work (can be unpublished)

    -identify as queer (LGBTQIA+) and or gender non conforming.

    -be under 35 years of age

    -be able to attend in-person workshops in Cape Town, Western Cape over a two month period from August to September 2021, and remote mentorship for a further month of October 2021
Deadline: 21 June 2021
Apply online via the following link: 
https://docs.google.com/forms/d/1uLVnaz1JNMc8a6X8ldFfB4mvZD9CEsDypjqdOnDbnj4/edit?usp=sharing
(You will require a google account to submit the form)
15 participants will be selected. The programme will provide transport and data stipend for workshops, software and laptops for use within the program where necessary.
One of the outcomes of this training initiative is to identify stories with the potential for development and production together with the writers and producers of Queer Writers Incubator.
Teacher Mentors include:
Babalwa Baartman, Amy Jephta, Gabe Gabriel, Kelly Eye-Koopman, Jenna Bass, Qondiswa James, Alexia Smit, Christiaan Olwagen.
Project Facilitators on behalf of Free Film School and Femme Projects: Loren Loubser and Francis Chouler
About the organisations:
Free Film School is a Film and Arts education co-operative founded in 2019 by Jenna Bass, Chantell Lungiswa Joe and Qondiswa James. Free Film School's objective is a film education programme, to take place at various venues across the Cape Town and Cape Flats area. The programme aims to supplement the existing film education available in South Africa, as well as to offer an alternative source of film education to aspiring filmmakers without access to existing mainstream institutions. In the long term, Free Film School aims to foster a new generation of filmmakers, empowered to make independent, sustainable and influential work that reaches its audience, enabling new storytelling voices to be heard. 
Femmeprojects is a registered NPC that seeks to apply an intersectional and interactive approach to educating and empowering youth with mentorship, upskilling, education and access. We focus on Comprehensive Sexual Education, Sexual Health, Career Choices, Consent, Mentorship and creating an inclusive holistic way of learning in an interactive age appropriate safe space. An all queer and of colour led organisation that is determined to teach, uplift, help empower and continue to create change. 

https://docs.google.com/forms/d/1uLVnaz1JNMc8a6X8ldFfB4mvZD9CEsDypjqdOnDbnj4/edit?usp=sharing